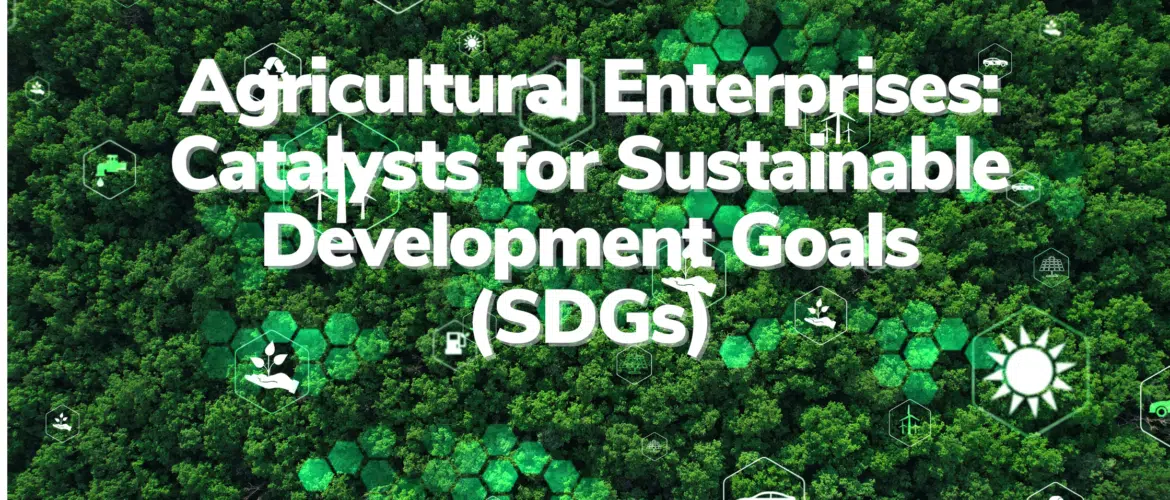 Agricultural Enterprises: Catalysts for Sustainable Development Goals (SDGs)
The United Nations' Sustainable Development Goals (SDGs) serve as a roadmap for global progress, aiming to address challenges from poverty to climate change by 2030. SDGs encompass 17 goals, representing a "blueprint to achieve a better and more sustainable future for all". The goals are interconnected and many sectors and industries affect various issues within the SDGs, including agricultural enterprises—which emerge as an achievable, yet often overlooked, avenue for driving sustainable development.
The role of agriculture in advancing SDGs
As the global population continues to grow, agriculture remains central to SDGs' success. Agricultural enterprises are pivotal in advancing progress across various SDGs, serving as the lifeblood of rural communities and connecting smallholder farmers to global markets. Implementing evidence-based targets, alongside community-centered perspectives, will be paramount for the future of sustainable development.
The SDGs related to agriculture
Food production has its own (SDG 2), which calls to "end hunger, achieve food security and improved nutrition and promote sustainable agriculture."
Food production is directly linked to other challenges targeted by SDGs:
Good health and wellbeing (SDG 3)
Clean water and sanitation (SDG 6)
Affordable and clean energy (SDG 7)
Decent work and economic growth (SDG 8)
Responsible consumption and production (SDG 12)
Indirectly, agriculture also impacts the community and income-based SDGs:
Poverty (SDG 1)
Education (SDG 4)
Gender equality (SDG 5)
Climate action (SDG 13)
Life on land (SDG 15)
Partnerships for the goals (SGD 17)
Sustainable agrifood systems are central to the 2030 Agenda, as they integrate economic development with social progress and environmental conservation, offering solutions to our global challenges. A comprehensive study of the SDG framework underscores the critical role of sustainable agrifood systems across all SDGs:
Alleviating poverty (SDG 1) necessitates addressing social protection, land rights, and building resilience in rural areas.
This objective is closely intertwined with the aspiration to eradicate hunger and enhance food security (SDG 2).
Promoting good health (SDG 3) starts by ensuring access to nutritious and safe food.
Enhancing nutrition is imperative for boosting enrollment and retention rates in primary and secondary education (SDG 4).
Fostering equitable access for women to both land and economic resources bolsters food production and leads to sustainable economic growth for rural communities (SDG 5).
Advancing sustainable agrifood systems entails delivering greater food output while minimising energy consumption and adopting cleaner energy sources (SDG 7).
It also involves reducing food wastage (SDG 12)
Empowering small-scale producers with innovative technologies (SDG 9) and safeguarding their land tenure rights (SDG 10)
These sustainable agrifood systems have the capacity to:
Tackle water scarcity (SDG 6)
Respond effectively to climate change (SDG 13)
Safeguard aquatic (SDG 14) and terrestrial biodiversity (SDG 15) worldwide.
Ensure sustainable economic growth and provide decent employment opportunities in rural areas (SDG 8)
Secure a stable food supply at affordable prices in urban centres (SDG 11)
Significantly contribute to fostering peace through the eradication of hunger (SDG 16)
Crucially, these goals can only be attained through collaborative efforts with all stakeholders in the food and agriculture sector (SDG 17).
Simply put, SDGs cannot be achieved without sustainable agricultural practices.
Regenerative agriculture unlocks many benefits
Regenerative agriculture, a key facet of modern farming practices, focuses on soil health, biodiversity, and carbon sequestration. By nurturing the land, regenerative agriculture addresses SDGs 13 (Climate Action), 14 (Life on Land), and 15 (Life on Water), contributing to a more sustainable and resilient ecosystem.
RegenZ's contribution towards sustainable development goals
Poverty (SDG 1): Empowering agricultural communities (particularly smallholder farmers) with the right inputs, partnerships and training resources.
Zero hunger (SDG 2): Introducing innovative and resilient crop varieties into rural communities. For example, we've partnered with Solynta to help combat hunger and food insecurity through new seed technologies that are more resilient and cost-effective, such as Solynta hybrid true potato seed and hemp seed varieties.
Good health and wellbeing (SDG 3): Promoting good health through restoring agricultural practices that focus on human health.
Life on land (SDG 15): Regenerative agricultural practices improve the general well-being of our environments.
Partnerships for the goals (SGD 17): RegenZ is built on strong and scalable partnerships and will continue to work on this model. For example, we focus on building partnerships with creators of new agricultural technology (such as Poly4 + PES Technologies) that increase agricultural efficiency, leading to economic growth (SDG 8) and fostering partnerships across the agricultural sector. By integrating technology with agriculture, we amplify our impact on sustainable development.
Empowering smallholders: a focus on community development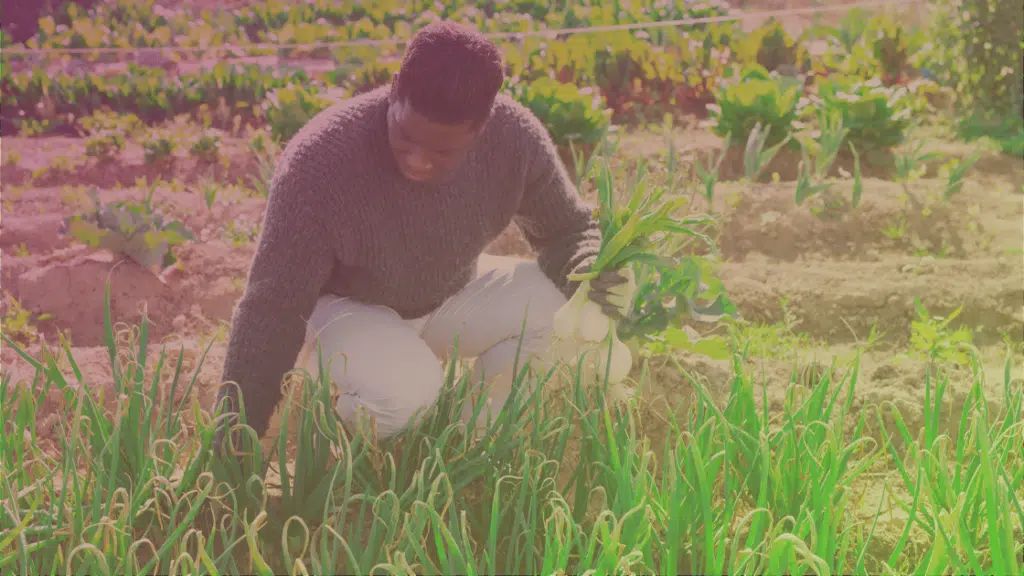 At RegenZ, empowering smallholder farmers is a priority. This approach directly addresses SDGs 1 (No Poverty), 4 (Quality Education), 5 (Gender Equality), and 8 (Decent Work and Economic Growth). By bolstering communities, we create a solid foundation for sustainable development.
Check out RegenZ's package for smallholder farmers.
Learn more about the trials we're currently running to test our Smallholder Farmer Starter Package.
The vital role of agriculture in cultivating sustainable development
Agricultural enterprises are a linchpin for sustainable development, offering a multifaceted approach to achieving the UN SDGs. By embracing regenerative practices, innovative seed technologies, empowering smallholders, and leveraging cutting-edge agricultural technologies, we pave the way for a more prosperous, inclusive, and sustainable future and realise the vision set forth by the 2030 Agenda for Sustainable Development.
Further reading: Transforming our world: The 2030 Agenda for Sustainable Development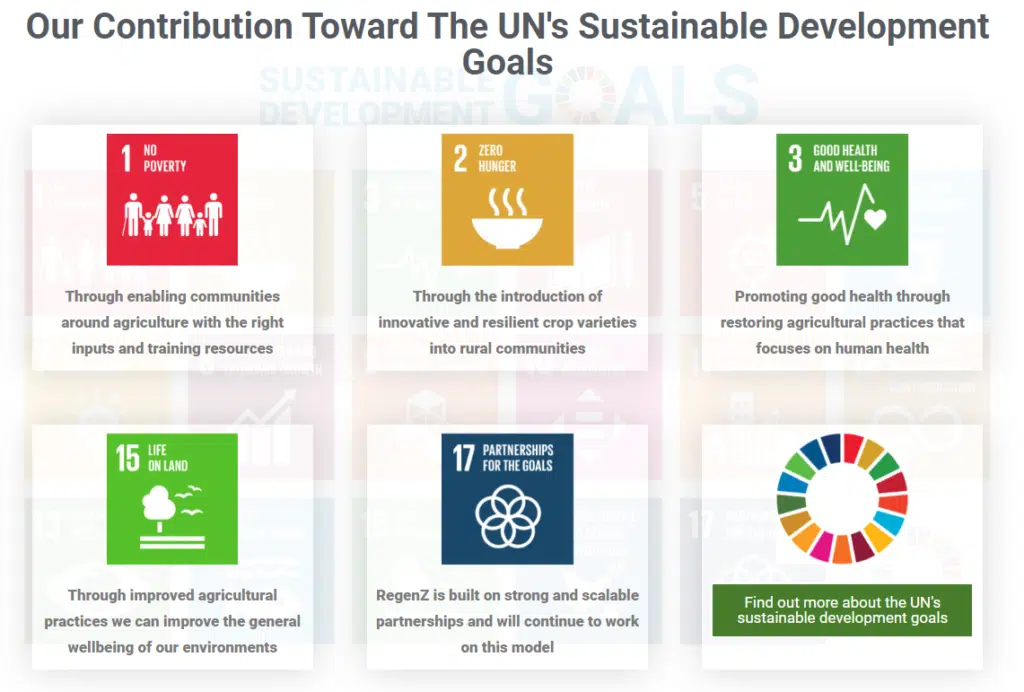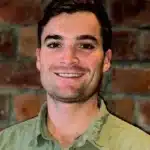 About the Author: Alex Platt
Alex is Business Development Manager at RegenZ. He's inspired by the potential of regenerative farming and takes a special interest in the technology and products that are moving agriculture in a more sustainable direction.